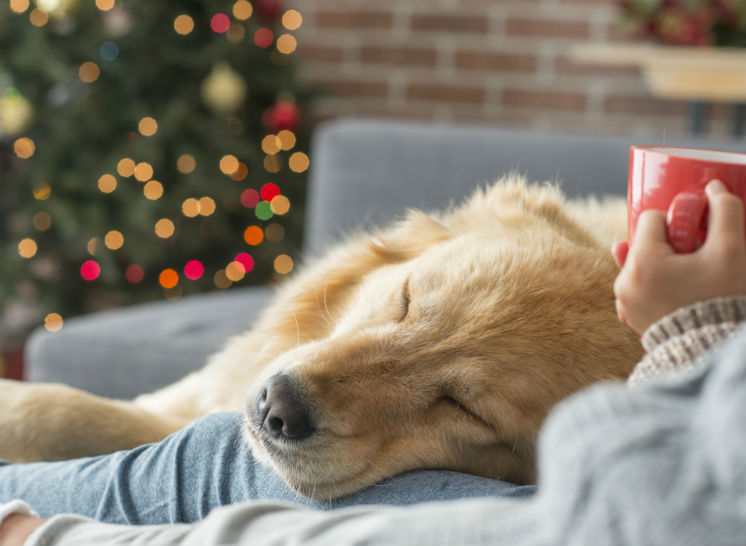 The holiday season is in full swing. And if you're a dog lover (which we're guessing you are), there's no better way to celebrate than curling up to a movie with a cup of cocoa and your canine by your side.
Here, we compiled a list of upcoming festive favorites with four-legged co-stars. Tune into the TV channel or schedule them into your DVR, and enjoy the season! All times are in Eastern Standard Time (EST). Check your local listings to confirm.
"How The Grinch Stole Christmas!"
Freeform
Saturday, Dec. 16 - 9:15 p.m.
Saturday, Dec. 23 - 9:20 p.m.
​Sunday, Dec. 24 - 6:35 p.m.
A Christmas classic and popular favorite, watch as the Grinch steals Christmas with the reluctant help of his dog, Max. Good thing everything turns out all right in the end!

"A Charlie Brown Christmas"
ABC
Thursday, Dec. 21 - 8 p.m.
See Snoopy (who is an AKC-registered Beagle!) and the rest of the Peanuts gang as they discover the true meaning of Christmas.

"I Want a Dog for Christmas, Charlie Brown."
ABC
Saturday, Dec. 16 - 8 p.m.
Watch as Snoopy gets to be a "test dog" for Rerun, who wants a pup of his own.
Freeform (ABC Family)
Wednesday, Dec. 20 - 7:00 a.m.
Watch this Disney version of a favorite Christmas story, featuring Goofy as Jacob Marley's ghost (who is, in this case, a dog).

"Mickey's Once Upon a Christmas" and "Mickey's Twice Upon a Christmas"
Freeform (ABC Family)
Saturday, Dec. 16 - 10:05 a.m. and Sunday Dec. 17 - 7:00 a.m.
Thursday, Dec. 14 - 7:00 a.m. and Saturday, Dec. 16 - 11:35 a.m.
Enjoy more Christmas fun with the Mickey Mouse gang, including Goofy and Pluto!

"Santa Paws 2: The Santa Pups"
Disney Channel
Friday, Dec. 22 - 10:00 a.m.
When the "Christmas Spirit" disappears, it's up to these pups to bring it back.

Looking for the perfect gift this holiday season for your canine companion? Or maybe for the fellow dog lover in your life? Check out the AKC Shop for breed-specific products and more!