At six prisons in New York and New Jersey, inmates can participate in a program where they learn to train purpose-bred Labrador Retrievers to become service dogs for veterans and explosive detection dogs for law enforcement. But as much as the inmates are helping train the dogs, the dogs are teaching the inmates responsibility and helping them gain a sense of self. And because of this program, inmates are able to help give back to society while still in prison.
The work of the Puppies Behind Bars program is the subject of a new documentary debuting at the Tribeca Film Festival April 24 titled "Prison Dogs." The film follows five men who are in the challenging program at Fishkill Correctional Facility in Beacon, New York. Watch a clip from the documentary below:

Filmmaker Perri Peltz talks to us about the emotional inmate-dog relationship and how the service dogs are able to change the lives of both the inmates who train them and the veterans who receive them.

What was it about Puppies Behind Bars that made you want to tell this story?
"[Filmmaker] Geeta Gandbhir and I were looking for a story that would put a face onto the complicated topic of prison reform. Prison recidivism rates in the United States are sky-high, and we were looking for a story that could shed light on some of the issues. Working with Puppies Behind Bars, which trains prison inmates to raise service dogs for wounded war veterans, was a wonderful experience."

Can you describe the human-dog relationship you experienced while making this film?
"It is hard to put into words the human-dog bond we witnessed during the filming of Prison Dogs. Long-term prison inmates have few people who visit on a regular basis and the dogs become their most important relationship, reminding them in some cases of their roles as fathers, in other cases becoming their buddies and easing their loneliness. These are tough men, yet they are reduced to tears when they have to part with their canine charges after two years. They have lived with the puppies 24/7. They have been responsible for their care, well-being, and training. This intense bonding and relationship of unconditional love is transformative and life-changing."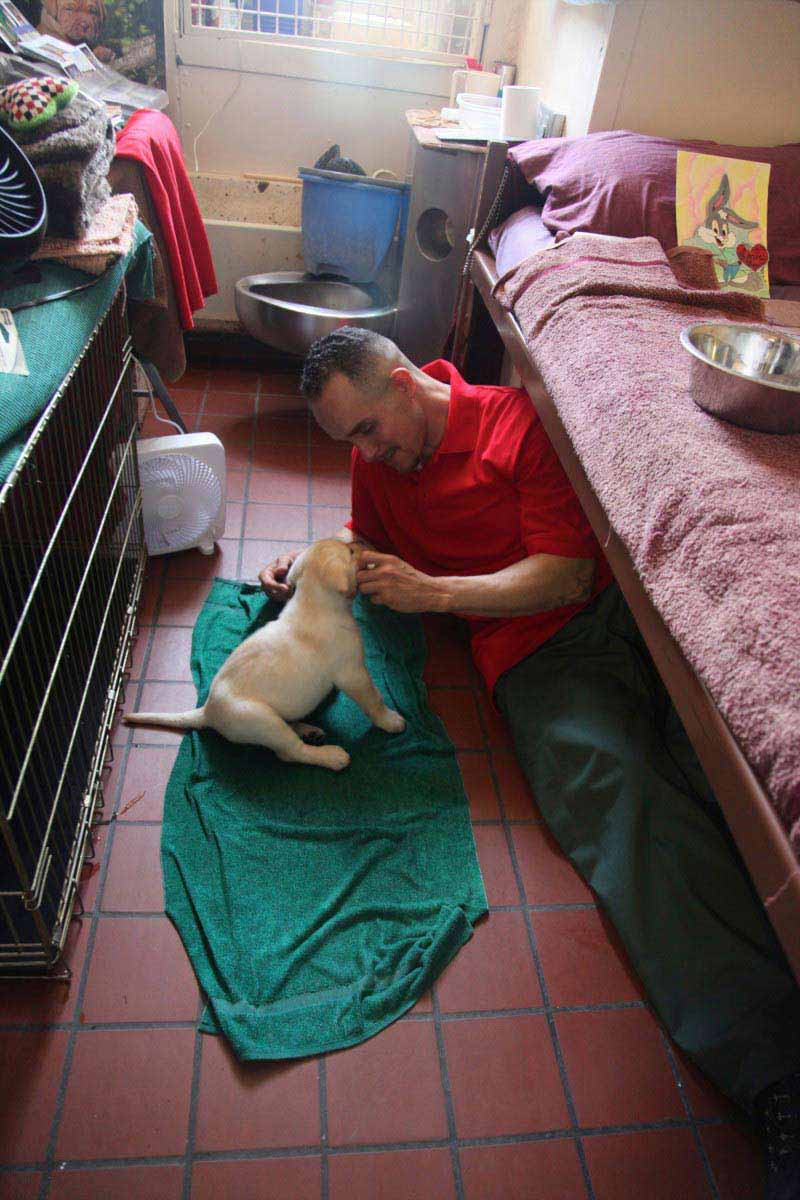 The inmates were helping raise and train the puppies, but do you think the puppies helped the inmates?
"Many of the inmates describe strings of broken relationships, relationships with family and loved ones that are fractured or nonexistent. Many are not proud of the people who they were or the lives that they led. The dogs allow the men to learn how to care for someone and what it means to be loved unconditionally. The dogs allow them to take pride in a sense of achievement. Ultimately, for the inmates who succeed, they are given the gift of being able to give back to society, something most have never done."

What was the most surprising thing you learned while filming?
"How much of an impact a service dog can make on a veteran with PTSD."

Why should dog lovers see this film?
"Watching how a service dog is raised is unforgettable and seeing what these dogs are able to do and the impact they make on veterans' lives is truly overwhelming. These dogs are truly amazing. And if you aren't a dog lover, we think you will be after you watch 'Prison Dogs.'"
"Prison Dogs" premiers April 24 in New York City during the Tribeca Film Festival. Learn more about the film at PrisonDogsFilm.com and the Tribeca Film Festival site.

Header image: Peggy Vance
Related:
New Program Allows Prison Inmates To Become Dog Groomers
Why Train Purpose-Bred Service Dogs Instead of Rescue Dogs?
Meet Corporal Stanley: Service Dog in Training